Shakespeare Organizations during COVID-19: American Shakespeare Center
I
n the coming weeks, we will be looking at how recent social distancing has impacted and continues to affect Shakespeare organizations around the world. We hope to highlight both how difficult this season is for many groups and the creative ways they're overcoming those difficulties. Read below for more written by Marketing Manager Sky Wilson in conversation with Artistic Director Ethan McSweeny.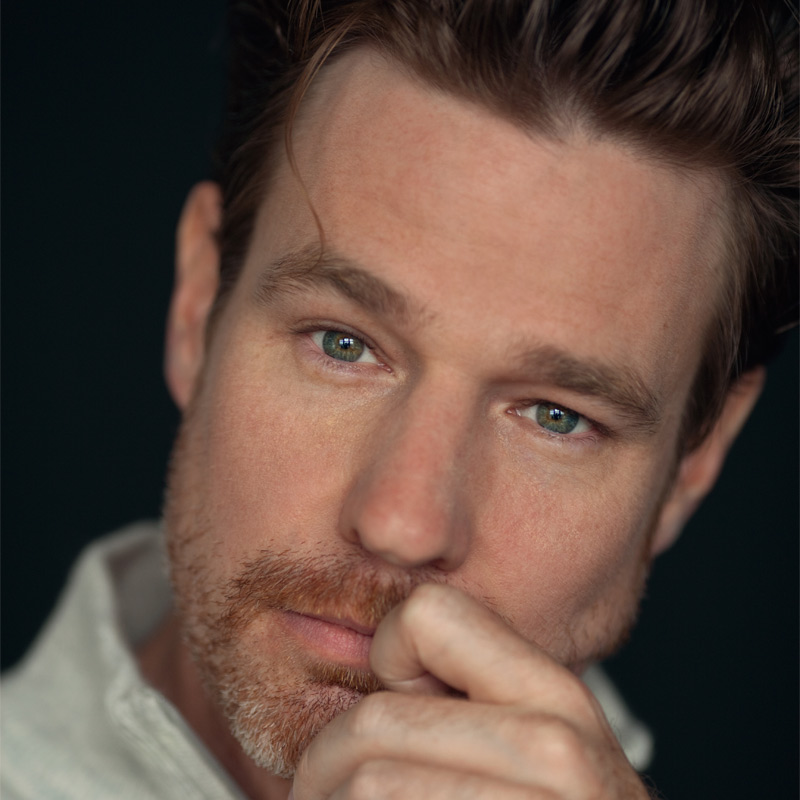 First, for anyone who might be unfamiliar, tell us a little bit about the mission of your organization.
American Shakespeare Center illuminates the plays of Shakespeare and his contemporaries, classic and new, refreshing the individual, fostering civil discourse, and creating community in the Blackfriars Playhouse and beyond. Normally, we create vital, sophisticated, and accessible seasons built around a company of versatile actors performing in repertory all year round as well as a host of education content for all ages in order to share discoveries with audiences, scholars, and artists.
COVID-19 has impacted everyone, but could you tell us a bit about the specific difficulties the American Shakespeare Center has faced during this time?
It was a challenge to figure out how to safely live and work during the age of coronavirus, but as a small yet nimble theatre in a region that has had relatively low levels of viral outbreak, ASC has an opportunity to model new strategies for employing artists, stimulating local economies, and providing truly essential services to our audiences near and far. We felt a duty to re-open when we were able. Our ASC SafeStart plan was developed with the help of many people and many minds. We made sure that the safety of our actors, audience, staff, and greater community was first priority. Mitigations against the spread of disease include: moving some performances outdoors (a whole challenge in and of itself), a carefully maintained quarantine bubble for our actors, universal masking for our staff and audience, symptom checks, contactless ticketing, and socially distanced seating in the Blackfriars Playhouse. You can see the Visitor's Guide for the Blackfriars Playhouse and the FAQ about attending an outdoor performance on our website for information.   Under this ASC SafeStart plan, we figure out how to operate and are now producing a season of 2 shows (the passionate tragedy Othello, directed by Ethan McSweeny, and heartfelt and hilarious romp Twelfth Night, directed by Dan Hasse) with 3 ways to watch them (indoors, outdoors, and online), allowing us to meet our fans at whatever their comfort level with returning to live theatre. Last weekend, American Shakespeare Center became one of the first not-for-profit theatres in North America to successfully and safely produce live indoor theatre, passing a milestone in our 2020 SafeStart Season efforts. ASC did not ask to be in the vanguard of modeling ways to live and work in the age of coronavirus, but as the plays we cherish remind us: when history finds you there is a duty to rise to the occasion.
Like many performing arts organizations, we run our business on a razor-thin margin. Typically, 80% of our income comes from the Box Office. So when the Box Office is closed, it becomes hard for us to support ourselves and to provide for our artists and staff. Luckily, this spring, 2,358 people answered our call to Keep the Lights On. Every day we say thank you by taking that investment and turning it into art that inspires made by a company of actors that provides us all with much needed hope for our future. Producing ASC SafeStart means implementing many mitigations; that safety comes at a premium, however, because social distance limits our Blackfriars Playhouse capacity to one third of what we can normally seat. Now, in honor of our SafeStart Season, we are now launching the Save a Space campaign: the opportunity to purchase the space between the seats and help keep ASC afloat by returning a portion of the income we have lost to social distancing mitigations.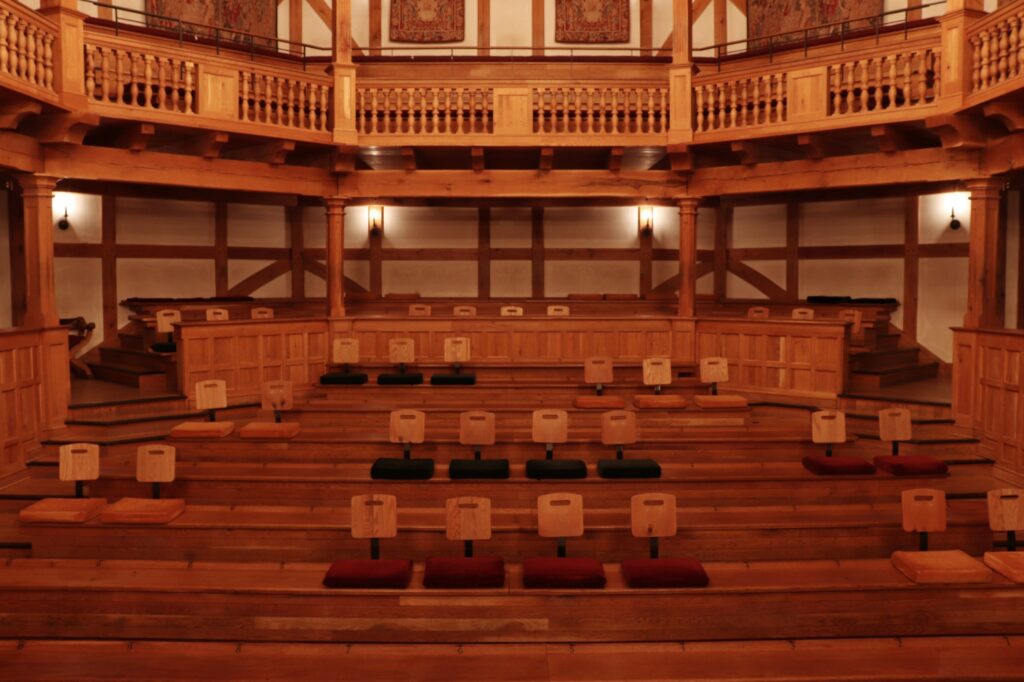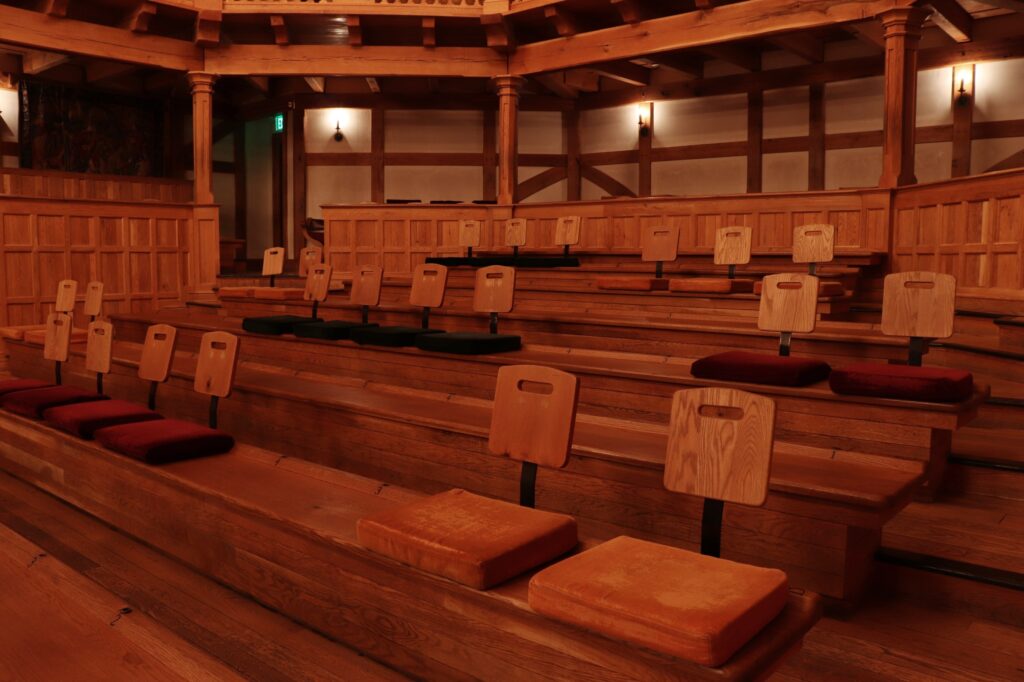 Representative photos of socially distanced playhouse seating, which may not reflect actual seating chart. For more information, visit their website.
What are some of the resources you have online that you would like everyone to know about?
We have moved or are in the process of moving much of our content online. We are now dual citizens of the physical and virtual worlds! Our 2020 SafeStart Season will be live streamed for synchronous viewing by fans across the world via BlkFrs LIVE (a companion to our streaming platform BlkFrsTV). We are bringing the Playhouse to your house through an exciting new partnership soon to be announced! Fans can sign-up on our website to get notified when more information about live streaming Othello and Twelfth Night is available.
Each Friday at 5 pm, we host "Dr. Ralph Presents: Then Must You Speak" on our Facebook page. "Then Must You Speak" brings together scholars and artists for probing conversations about race and Shakespeare on the page and on the stage both in theory and in practice in order to grow our understanding of the many ways in which "classical" theatre and how we pursue it in America exposes and intersects with issues of social justice, systemic racism, equity, and the perpetuation of White supremacy culture while simultaneously offering a lens through which to imagine and embody positive change. Discussions are presented live via Zoom broadcast to our ASC Facebook page for free, every week this summer!
We are offering live digital concerts monthly from the stage of the Blackfriars on our Facebook page as well!. These are called "Live @ Blackfriars" and they're led by our incredible music master and actor Chris Johnston. Our next concert is August 16 and will feature our SafeStart Season acting ensemble performing all of the music from the pre-show and intermission breaks of our 2 shows. These acoustic, contemporary concerts are a great way to spend a Sunday evening at home and stay engaged with live performance.
This fall, BlkFrs LIVE will offer education partners new and affordable ways to bring the joy of live Shakespeare to their digital campus with Virtual Student Matinees and a Virtual Tour accompanied by interactive, live-hosted education workshops with our artists.
This has been a time of pivoting for many organizations. Are there any lessons or changes you will implement after we have weathered this crisis?
Lots of people are referring to this as a pause – especially for the arts – but I think we have learned that this virus has put us in fast forward mode. We are working so quickly on so many new things at once. We want to make sure we are still able to provide entertainment and value to people's lives – now and in the future. I think ASC's format is forever changed at this point. We are now digital as much as we are physical.
Is there a certain poem or play that has brought you comfort during this time? If so, could you share?
I keep coming back to "The Waking" By Theodore Roethke. The last stanza rings so true:
This shaking keeps me steady. I should know.
What falls away is always. And is near.
I wake to sleep, and take my waking slow.
I learn by going where I have to go."
You can read it here for free.
Thank you so much, Sky and Ethan!