Shakespeare Organizations during COVID-19: Shakespeare at Winedale
In the past months, we have be looking at how social distancing has impacted and continues to affect Shakespeare organizations around the world. We hope to highlight both how difficult this season is for many groups and the creative ways they're overcoming those difficulties. Read below for more from Shakespeare at Winedale Regents Professor of English and director of the Shakespeare at Winedale program James Loehlin.
First, for anyone who might be unfamiliar, tell us a little bit about the mission of Shakespeare at Winedale.
Shakespeare at Winedale is a program of the University of Texas Department of English that invites students and audiences to explore Shakespeare's plays through performance.  Students in the program spend their summers at the Winedale Historical Center in the Texas countryside, performing a repertory of plays in a converted barn on this nineteenth-century pioneer property.  
COVID-19 has impacted everyone, but could you tell us a bit about the specific difficulties Shakespeare at Winedale has faced during this time?
Because of COVID-19 the students were unable to spend their summers at Winedale; instead we worked together online to give Zoom performances of A Midsummer Night's Dream, Hamlet and 1 Henry IV.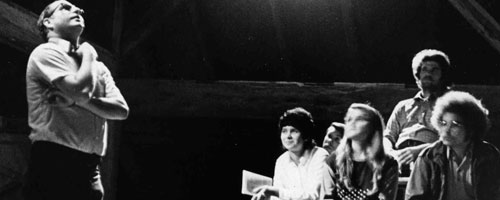 What are some of the resources you have online that you would like everyone to know about?
This crisis has required a great shift for many organizations. Are there any lessons or changes you will implement after we have weathered COVID-19?
We have learned a lot about overcoming challenges and using technology to find community in difficult times, particularly in our engagement with alumni through Shakespeare at Winedale online happy hours and a summer series on Shakespeare, civil rights, and justice.  We hope to keep up that sense of community in the coming years.
Things are looking different everywhere, as everyone is in a different phase of reopening—what do your plans look like for your upcoming season?
Everything is uncertain, but our goal is to be back in the Winedale Theater Barn for performances this summer.
Is there a certain poem or play that has brought you comfort during this time? If so, could you share?
The first class to be affected by COVID-19 was the Shakespeare at Winedale spring course, which was focused on "Shakespeare's Green World" and centered on a performance of As You Like It.  After we had worked at Winedale for one weekend, the University shut down in-person classes and we transitioned to online teaching.  We nonetheless were able to put together a wonderful live Zoom performance of As You Like It.  The key speech for us was Duke Senior's:
Sweet are the uses of adversity,
Which, like the toad, ugly and venomous,
Wears yet a precious jewel in his head;
And this our life exempt from public haunt
Finds tongues in trees, books in the running brooks,
Sermons in stones and good in every thing.